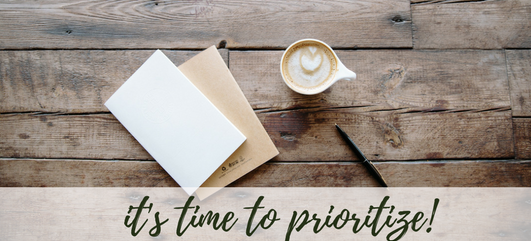 Last week we talked about tips for plugging up those energy leaks. TIP #5 was PRIORITIZE because no energy-saving list is complete without a mention of the dreaded TO DO List.
Some of y'all love to make lists. Others HATE it. But they are an important, unavoidable part of our lives.
And I bet even those who love them could improve at streamlining and getting the most from their list each day. Am I right?
So last night's Intention Setting focused on Prioritizing.... How to write a month-long TO DO List that helps you strategize and energize every single day!
Did it help? Are you ready with your list now? If you haven't seen the workshop, you can still watch the replay here or read the recap in this recent blog post.
Now it's time to dig deeper into our 3 Part List. How exactly do you divide up your life into Minimum, Success, and Growth? Let's look at it step by step.
Step 1: What is your bare minimum?
You can't be growing in every area of life all the time. That's simply not realistic. And while the goal is to succeed in most areas most of the time, if your time really gets tight or your energy gets drained, you will have to pick and choose where to put your efforts.
That's why it's so important to understand WHAT IS YOUR BARE MINIMUM in each area of life.
•What is the least you could do to keep your business running (or to keep from getting fired)?
•What are your minimum responsibilities at home or with your friends/family/significant other?
•What is a non-negotiable for maintaining decent health?
These answers are different for each of us. I run 3 businesses, but I don't have kids. So while my "Business Bare Minimum" is a little crazy, I can get away with more of my Home responsibilities if I get in a bind. A couple years ago my health was really bad, so I had to spend more time and energy keeping myself afloat. Now I can go a day or two making "poor/quick" choices and still be ok.
See how this is different for every single one of us?
ASSIGNMENT: Take the categories you created for yourself in the Workshop and write out your Bare Minimums. Share in the comments a few of your funny, weird, or super important items from your lists.
NOTE: This is not the place for "well I should REALLY be able to get XYZ done everyday." STOP IT. Stop making your list longer than you can truly handle. The only things that belong on this list are the things that keep you at that barely acceptable level. So if push comes to shove you can still keep your job, get your family fed, and not take steps backwards with health.
Step 2: What is your Success?
We have talked SO MUCH about how important it is to define your own success and stop worrying about what other people say, think, or advise for your life.
Now I want you to put all of that to work in a practical way!
Take your categories and, for each one, write down what you need to do to create YOUR success. (Biz, Home, Health, etc. Whichever categories you chose in our Intention Setting Workshop)
What goes on this list are all the things you need to accomplish to look around at the end of the day and say, "Yep. I totally rocked it today!" To get to say "My business is doing great. It's totally headed in the right direction." Etc.
IMPORTANT: This is about getting to a place that feels GOOD. We aren't yet thinking about the "perfect" life or your biggest goals and dreams. Those go on your Growth list.
ASSIGNMENT: Write down everything you need to do to feel successful. This list should still be practical for completing within the month, on a good month. (Which may not be November-December, hence your minimums list!)
Are you surprised at how much or how little you need to feel successful? For me this list is shorter than I expected. I realized there are lots of things that really belong on my Growth list. They will take longer to achieve, and I'm just wasting energy thinking they should all be achievable RIGHT NOW.
Let us know your insights in the comments!
Step Day 3: How will you Grow?
This one will be the most fun to create!
Making sure to keep your sights on THIS MONTH, what would be AMAZING, AWESOME, AND TOTALLY SPECTACULAR to have happen in each of your categories? Where would you LOVE to see your business grow? What would be a fantastic family memory or a sweet outing with your significant other?
You might not get all or even most of these accomplished within the month, and I DO want you to be realistic. But you can't make it happen if you don't put it on your list right?!
And the more energy you save by working efficiently on your minimum and success list, the more time you have for the exciting things on this list!
Are you feeling motivated?!
I know this totally motivates me to knock out the boring stuff on my minimum list.
What is the one thing you really want to accomplish on your GROWTH list? How can you make that happen through hard work, organization, and energy conservation? Share in the comments below!
If you found this exercise helpful, you'll definitely want to join the Creativity Club. We do challenges like this every single week!